A More Earth-friendly Shoe.
Rackle's mission is to produce the most comfortable, sustainable, and biodegradable lightweight shoes that naturally help reduce your carbon footprint.
Rackle was built on the principle of developing earth-friendly footwear to help lessen the shoe industry's impact on the planet. Today, about 300 million shoes are thrown away each year in the USA alone.
Rackle shoes are designed using sustainable hemp and rapidly-biodegradable soles that begin to breakdown 30-50 times faster* than ordinary foam soles.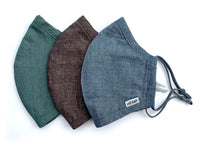 Hemp Face Mask (3-Pack)
Hemp blend face masks (3-Pack / adult size) crafted to CDC specifications for cloth face coverings. These hemp face masks are washable and reusable so you don't have to dispose of single-use masks. Learn More >
SHOP NOW
Testimonials
"I just received the Alex Midnight Black shoe. This pair is probably my 8th or 9th pair of Rackle shoes. They are amazingly light and so comfortable. ...and the customer service is outstanding. I mistakenly ordered the wrong size and Rackle was so easy to work with. They provided a return label and within a very short time, the correct size arrived."

Judy
"My husband LOVES Rackle shoes! He already has 5 pairs and wants to wear the new ones on some upcoming vacations."

Kara
"I'm absolutely blown away by the quality of these shoes! Eco-friendly shoes are hard to find these days and they certainly fit the bill. The comfort level is outstanding and the foam sole makes them even better. I was surprised when I put them on to find them so lightweight!"

Nicole

Free Shipping. Free Returns.